PD-1_Project
Member
| | | | |
| --- | --- | --- | --- |
| | Kenji Chamoto | Assistant Professor | kchamoto[at]mfour.med.kyoto-u.ac.jp |
| | Partha S. Chowdhry | postdoctoral fellow | psc[at]mfour.med.kyoto-u.ac.jp |
| | Yuka Nakajima | postdoctoral fellow | nakajima[at]mfour.med.kyoto-u.ac.jp |
| | Ryusuke Hatae | postdoctoral fellow | hatae[at]mfour.med.kyoto-u.ac.jp |
| | Natsuko Takatsuka | postdoctoral fellow | ntakatsuka[at]mfour.med.kyoto-u.ac.jp |
| | Muna Al-Habsi | Research Student | alhabsi.muna[at]gmail.com |
| | Alok Kumar | Research Student | alokkumar.iitr2011[at]gmail.com |
| | Maryam Akrami | Research Student | maryamakrami[at]live.com |
| | Rosemary (Rosie) Menzies | Intern | menziesrosie@gmail.com |
| | Takuma Oura | Medical students | oura.takuma.75r[at]st.kyoto-u.ac.jp |
| | Keiko Yurimoto | research assistant | yurimoto[at]mfour.med.kyoto-u.ac.jp |
| | Yoko Kitawaki | research assistant | ykitawaki[at]mfour.med.kyoto-u.ac.jp |
PD-1(Programmed cell death 1)was identified in our laboratory in 1992, using subtractive-hybridization technique, as a molecule whose expression level is enhanced by apoptotic stimuli. So far, we have identified two ligands of PD-1 (PD-L1 and PD-L2), analyzed its signal transduction, and examined the pathophysiology of autoimmune diseases that appear in PD-1 knock out (Pdcd1-/-) mice. From these observations, it became evident that PD-1 provides negative co-stimulation to lymphocytes, which is critical for the establishment and/or maintenance of self-tolerance. The most prominent feature of autoimmune diseases observed in Pdcd1-/- mice is that the symptom differs among strains of mice used. C57BL/6 Pdcd1-/- mice develop lupus-like arthritis and glomerulonephritis. BALB/c Pdcd1-/- mice produce autoantibodies against cardiac troponin I and develop dilated cardiomyopathy.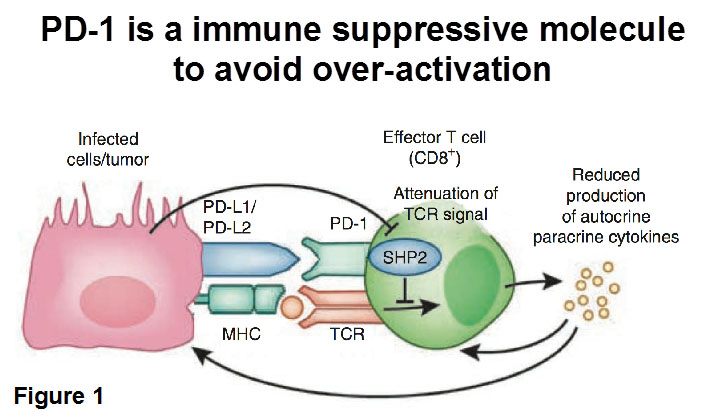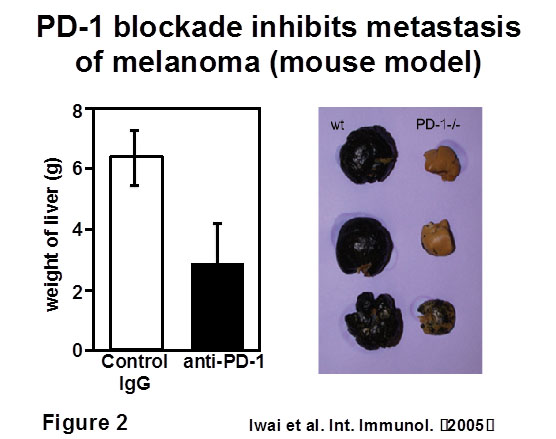 Once clarified the fundamental role of PD-1, it motivated us to manipulate such properties to help immune system fight against cancer and infections. Since immunity recognizes cancer cells as "self" cells, it had been believed that tumor cells are not rejected by immunity. However, the fact that Pdcd1-/- mice generate autoimmune diseases indicates that blockade of PD-1/PD-L1 pathway enables T cells to attack cancer cells as "foreign" cells. We first established the model of cancer immunotherapy by PD-1 blockade in the world and demonstrated that administration of anti-PD-1 mAb or anti-PD-L1 mAb inhibits tumor growth and metastasis (upper figures). In the research, we also defined the immune checkpoint system that enables tumor cells expressing PD-L1 to escape from the immune surveillance by inhibiting T cell activity. Indeed, cancer patients whose cancer cells highly express PD-L1 experienced worse prognosis. Based on these basic results, we have started clinical immunotherapy using anti-human PD-1 mAb collaborating with other departments in the faculty of Medicine. Anti-PD-1 mAb has been first approved by PMDA as a new cancer drug for melanoma in Japan on July 2014, and anti-PD-1 mAb therapy has been prevailed in the world. Although the clinical efficacy was dramatically enhanced up to 20-30% compared with other immunotherapies, 70-80 % of patients are still unresponsive. It is urgent to investigate why there are unresponsive patients and to find predictive biomarkers that discriminate responsive and unresponsive patients. For these purposes, we are searching the mechanism of tumor regression and unresponsiveness by PD-1 mAb therapy using mouse models and clinical samples in multidisciplinary approaches.
Reference
1. Okazaki T, Chikuma S, Iwai Y, Fagarasan S, Honjo T.
A rheostat for immune responses: the unique properties of PD-1 and their advantages for clinical application.
Nat Immunol. 14(12):1212-8 Review (2013)
[PubMed]
2. Chikuma S, Suita N, Okazaki IM, Shibayama S, Honjo T.
TRIM28 prevents autoinflammatory T cell development in vivo.
Nat Immunol. 13(6):596-603 (2012)
[PubMed]
3. Hamanishi J, Mandai M, Iwasaki M, Okazaki T, Tanaka Y, Yamaguchi K, Higuchi T, Yagi H, Takakura K, Minato N, Honjo T, Fujii S.
Programmed cell death 1 ligand 1 and tumor-infiltrating CD8+ T lymphocytes are prognostic factors of human ovarian cancer.
PNAS. 104(9):3360-5 (2007)
[PubMed]
4. Okazaki T, Honjo T.
Rejuvenating exhausted T cells during chronic viral infection.
Cell. 124(3):459-61 (2006)
[PubMed]
5. Iwai Y, Terawaki S, Ikegawa M, Okazaki T, Honjo T.
PD-1 inhibits antiviral immunity at the effector phase in the liver.
J Exp Med. ;198(1):39-50 (2003).
[PubMed]
6. Okazaki, T., Tanaka, Y., Nishio, R., Mitsuiye, T., Mizoguchi, A., Wang, J., Ishida, M., Hiai, H., Matsumori, A., Minato, N., and Honjo, T.
Autoantibodies against cardiac troponin I are responsible for dilated cardiomyopathy in PD-1-deficient mice.
Nat Med. 9(12):1477-83 (2003)
[PubMed]
7. Iwai, Y., Ishida, M., Tanaka, Y., Okazaki, T., Honjo, T., and Minato N.
Involvement of PD-L1 on tumor cells in the escape from host immune system and tumor immunotherapy by PD-L1 blockade.
PNAS 99, 12293-7 (2002)
[PubMed]
8. Nishimura H, Okazaki T, Tanaka Y, Nakatani K, Hara M, Matsumori A, Sasayama S, Mizoguchi A, Hiai H, Minato N, Honjo T.
Autoimmune dilated cardiomyopathy in PD-1 receptor-deficient mice.
Science 291(5502):319-22 (2001)
[PubMed]