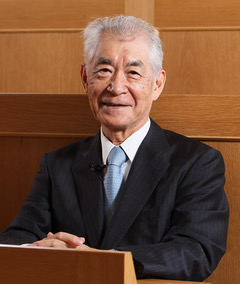 Statement from Tasuku Honjo on COVID-19
In light of recent misleading news purported to represent the views of Distinguished Professor Tasuku Honjo of the Kyoto University Institute of Advanced Study, the University is publishing the following statement from Professor Honjo.
Statement
In the wake of the pain, economic loss, and unprecedented global suffering caused by the COVID-19 pandemic, I am greatly saddened that my name and that of Kyoto University have been used to spread false accusations and misinformation.
This is a time for all of us, especially those of us devoting our careers to the forefronts of scientific research, to work together to fight this common enemy. We cannot delay one moment in this effort to save the lives of our fellow humans. At this stage, when all of our energies are needed to treat the ill, prevent the further spread of sorrow, and plan for a new beginning, the broadcasting of unsubstantiated claims regarding the origins of the disease is dangerously distracting.
This University devotes itself to furthering the wellbeing of humanity based on a principal of harmonious coexistence with the natural environment. It is my enduring pleasure and honor to support this aim to my fullest. Let us keep our eyes on the highest goals attainable by our species.
27 April 2020
 Tasuku Honjo
Deputy Director-General and Distinguished Professor
Institute for Advanced Study Kyoto University
What's new
2018.12.07 The Nobel Lectures in Physiology or Medicine will take place at Aula Medica Karolinska Institutet in Solna, Sweden. Prof. Tasuku Honjo delivered the lecture "Serendipities of acquired immunity"
2018.10.01 Prof. Honjo wins Nobel Prize in physiology and medicine.
https://www.nobelprize.org/prizes/medicine/2018/press-release/

Opportunity for Graduate Studentship and Postdoctoral Fellowship
We are recruiting young scientists who have a passion and high aspirations regardless of previous scientific backgrounds.

Tasuku Honjo "Yuh-shi" Fund
Commemorating the Nobel Prize in Physiology or Medicine